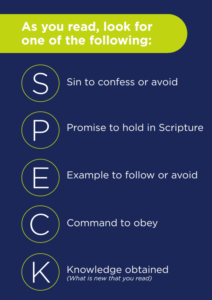 Read through the Bible in One Year
Follow MTV as we read through the Bible together in 2022. Click the links below for each Bible study and prayer guide: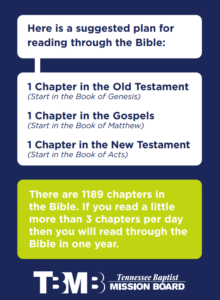 "Mirror Mirror on the wall…"
We all know the story of the wicked Queen in the Disney classic, Snow White. The Queen would go to the mirror for guidance and the mirror would speak the truth. The Queen always responded based on the words spoken whether it was what she wanted to hear or not.
As we at MTV begin to ask ourselves the question "What's next?" we want to give you some "mirror help" along the way for the next several weeks:
James 1:22-25 says, "Do not merely listen to the word, and so deceive yourselves. Do what it says. Anyone who listens to the word but does not do what it says is like a man who looks at his face in a mirror and, after looking at himself, goes away and immediately forgets what he looks like. But the man who looks intently into the perfect law that gives freedom, and continues to do this, not forgetting what he has heard, but doing it-he will be blessed in what he does."
The purpose of a mirror is to reflect an image so that we can then respond to what we see. If it reflects messy hair, we comb it. If it reflects a pimple, we…well refer to Dr. Pimple Popper for that image! So hopefully by the time we are done we can say, "Man, I'm looking good!" The verse in James is describing the same process just in a spiritual way. So…
1. We are asking you to take some index cards from the Mirror Mirror display in the foyer and let the Word speak to you. (Ask God to let his mirror (His Word) speak to you.
2. Write that Bible verse or thought on your index card (1 or 2 each week).
3. Tape that index card to your mirror at home (whichever you look into on a daily basis.)
4. Then each time you look intently into the mirror physically, you can look into the Spiritual mirror also (memorize-meditate-act.)
5. Then we will be blessed by what we do! And God will say, "Well done good and faithful servant" (in other words, YOU LOOK GOOD!)